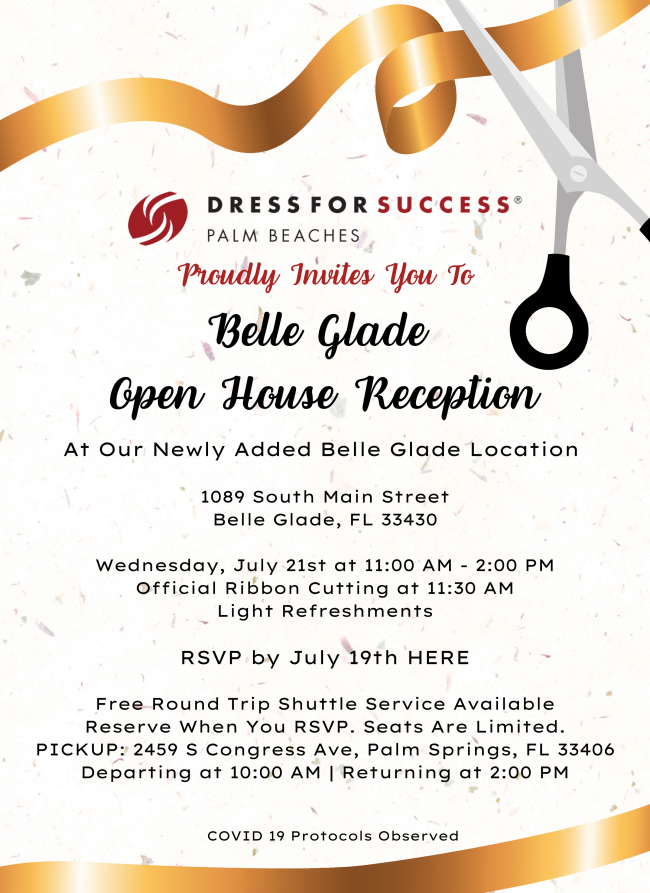 Belle Glade Ribbon Cutting and Open House Reception
Celebrate our new satellite location in Belle Glade! Free round-trip shuttle service available.
We did it! We are so very excited to announce the opening of our new Belle Glade boutique! Thanks to our amazing team of staff and volunteers, we were able to get our new location up and running in just two months! Please join us for our official ribbon cutting and open house reception on Wednesday, July 21 from 11:00 a.m. to 2:00 p.m. Light refreshments will be served. RSVP by July 19, 2021.
Interested in our event shuttle service? Reserve you spot when with your RSVP. Pickup location is at our Palm Springs boutique, departing at 10:00 a.m.
*By taking part in this event you grant the event organizers full rights to use the images resulting from the photography/video filming, and any reproductions or adaptations of the images for fundraising, publicity or other purposes to help achieve the group's aims. COVID-19 protocols observed.